New Delhi, Sept 1, 2023:
A group of 15 Japanese tourists participated in a yoga session at Morarji Desai National Institute of Yoga (MDNIY). The yoga session was conducted by yoga therapist Ms. Madhu Khurana, and a yoga demonstration was presented by yoga practitioner Ms. Shruti.
MDNIY Director, Mr. Vikram Singh, warmly welcomed the group of tourists. He provided them with information about the various activities and programs offered by the institute. During this visit, the Japanese tourists engaged in a dialogue session with the institute's Director, Mr. Vikram Singh, who provided participants with the opportunity to gain a deeper understanding of the ancient yoga teachings and traditions. At the end of the program, the guests shared their positive experiences and praised the institute for its pioneering efforts in promoting yoga.
It must be noted that yoga resonates deeply with the Japanese people. Honorable Prime Minister Narendra Modi, in an event held on August 30, 2019, at the Vigyan Bhawan in New Delhi, honored Mr. Kimura of Japan Yoga Niketan with the 'Prime Minister's Yoga Award-2019' in the ' International Category ' for his outstanding contribution to the promotion and development of yoga in Japan.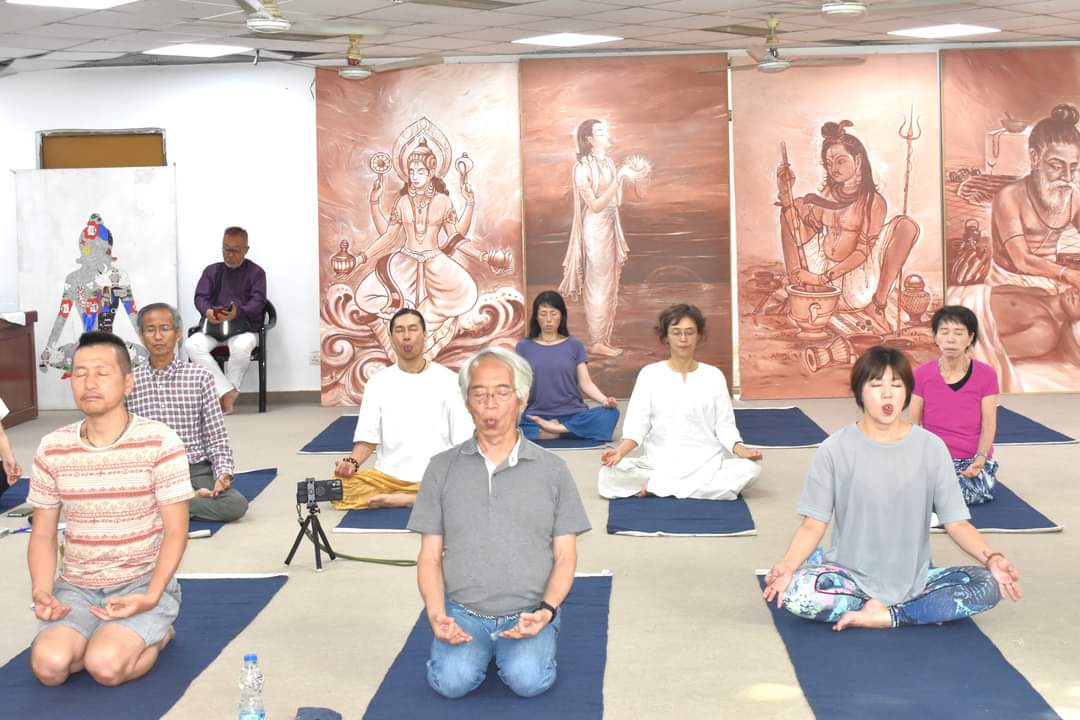 In this context, it is well-known that yoga is an ancient tradition in India, dating back thousands of years, which establishes harmony between physical, mental, and spiritual activities for the excellence of the body and mind. On December 11, 2014, the United Nations General Assembly declared June 21 as 'International Day of Yoga.' This proclamation was made in response to the dedicated efforts and special appeal of India's Prime Minister, the Honorable Mr. Narendra Modi.
During the program, Mr. Mudit Sharma, Administrative Officer at MDNIY, and Ms. Manjot Kaur, a dietary specialist at MDNIY, were also present and made valuable contributions to the successful execution of the event.