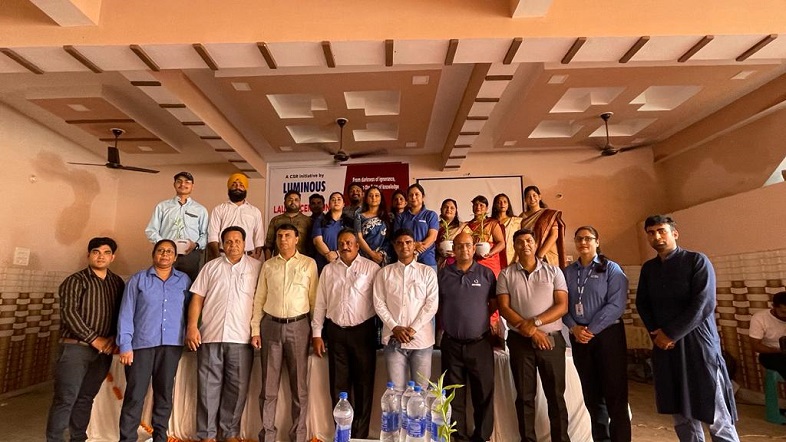 Haridwar, 20th July 2023: Luminous Power Technologies, India's leading power and electrical company, announces the continuation of its transformative Luminous Advanced Mentoring Program (LAMP) in Haridwar, in association with Happy Horizon Trust, a non-profit organization. Embarking on its second batch, the program is dedicated to empowering children of financially poor families. By providing essential educational assistance and nurturing their potential, Luminous aims to create a brighter and more promising future for these young individuals. The program is set to commence from July 19th, 2023.
The second batch in Haridwar aims to empower 50 more students, with a noteworthy 80% of the cohort being girls, who face challenges such as high dropout rates and social barriers. By addressing these issues, Luminous Power Technologies aspires to break limiting cycles and create transformative pathways towards a brighter future for these underprivileged students.
The event was graced by esteemed guests, including Aakansha Rathor, BEO (Block Education Officer) from Roorkee, at Mehwadkalan village in the Roorkee area of Haridwar. She emphasized how corporates often consider CSR as a burden, but Luminous has demonstrated genuine interest in contributing to education. She highlighted the importance of education in empowering every child, regardless of their gender, caste, or social status, and how knowledge shapes their future, whether they are from a city or a village. She also encouraged students to be resourceful, as it's not just aptitude but attitude that determines their path ahead. Her powerful words resonated deeply with the children and their parents who were present, leaving them inspired and motivated. Representing Luminous Power Technologies, Ms. Smita Kumari, General Manager of Battery Manufacturing at Haridwar, Mr. Atul Dadhich – Assistant Vice President HR and Mr. Sudarsan Pillai, Assistant Vice President, Manufacturing were also present at this launch function, where they highlighted the role of women in shaping the society. They highlighted that in today's world, girls are excelling in almost every field and creating a brighter future, for themselves.
Beyond academic support, the LAMP program offers a comprehensive approach that nurtures the overall development of the students. The program also offers guidance, counselling, and new-age skills such as digital literacy, adolescent health awareness, and environmental consciousness. This holistic approach equips the students with the necessary tools to thrive in today's world and evolve as responsible citizens. They get equipped to be the next change-makers in their communities.
Since its inception in 2016, LAMP has successfully supported 978 students, including 700 young girls. This year, the initiative is set to induct 250 new students from locations like Gagret, Baddi, Hosur, Haridwar, and Gurugram, expanding its reach and impact.
About Luminous Power Technologies
Luminous Power Technologies is a powerful and trustworthy brand with a wide range of innovative products in the power backup and residential solar space that covers inverters Batteries & Solar solutions. Luminous has been in business for 35 years now. Recently CRISIL has upgraded its credit rating to AAA+. With 6 manufacturing units, more than 28 sales offices in India, and a presence in over 40 countries, our 6000 employees serve more than 60,000 channel partners and millions of customers. Our motto has always been Customer Delight through Innovation & Passion with a focus on Execution & teamwork.