NMDC Hyderabad Marathon powered by IDFC FIRST Bank is the country's second-largest marathon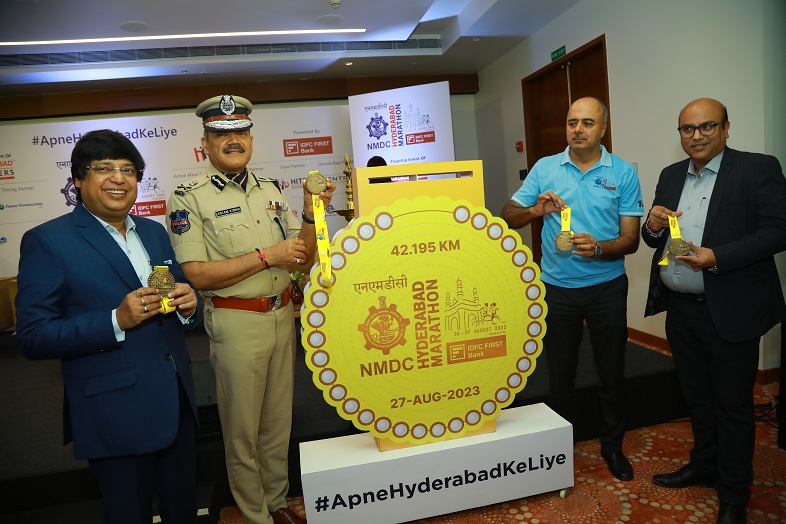 Hyderabad, August 19, 2023: Hyderabad Runners Society and NMDC together with the Govt. of Telangana announced the 12th edition of the annual NMDC Hyderabad Marathon 2023 powered by IDFC FIRST Bank. The run will have over 21000 registered participants. With thousands of outstation participants coming to run in this prestigious City Marathon, the annual sporting extravaganza is gaining massive appeal among serious and amateur runners across India and overseas.
The finishers Medal was unveiled by Shri Anjani Kumar, IPS, Director General of Police, Telangana, Shri Amitava Mukherjee, Chairman and Managing Director (Addl Charge) & Director Finance, NMDC Ltd, Shri Nirish Lalan, Head Branch Banking South, IDFC FIRST Bank in a press conference held on Thursday in a city hotel.
Addressing the gathering immediately after unveiling the Finishers Medal, Shri Anjani Kumar said, Hyderabad is competing with many cities globally on all fronts. Telangana is one of the top three states in India in per capita income. Mumbai is saturated. Hyderabad has a lot of scope to develop further Police are very much part of the event, It is our event. He promised full cooperation. We hope the participation will touch 30000 in future editions.
Shri Amitava Mukherjee said "As the NMDC Hyderabad Marathon 2023 approaches, we invite marathon enthusiasts and new runners from across the country to pay tribute to the Fit India Movement with NMDC. This year is special, we have demonstrated unprecedented resilience in overcoming the pandemic and as a society have become more health conscious. This edition of the Marathon will also be celebrated our resilience and a healthier India".
The event days are the 26th and 27th of August 2023. The 5K- a curtain raiser will be held on 26th August at 7 AM at Hitex. On 27th August the runs will be flagged-off as follows: Full Marathon at 4.30 AM, Half Marathon and 5.30 AM (from People Plaza, Necklace Road) & 10K Run at 6.30 AM from Hitex, Madhapur.
The marathon route will traverse the important landmarks in the city giving the runners a picturesque view of the Hussain Sagar Lake, Raj Bhavan Road, KBR Park, Jubilee Hills Road No. 45, Durgam Cheruvu Cable Bridge, Bio-diversity Junction, University of Hyderabad and finishes at Gachibowli Stadium, while spreading the healthy lifestyle theme among Hyderabad citizens. The 10K Run will be starting from Hitex Grounds and will merge with the Half and Full Marathon route near IKEA Circle and will finish at Gachibowli Stadium.
"Speaking on the occasion, Mr. Prashant Morparia, Race Director – NMDC Hyderabad Marathon, said, "Hyderabad Runners Society is proud to lead the active lifestyle movement and the 12th edition of the Marathon is a step in that direction.
This year, we have seen a growth in the number of participants to about 21000 plus, coming from almost 30 states and UTs as well as international participation. Out of this number, 5000 are women. 500 from 14 NGOs are also participating. We are eager to make them experience world-class race facilities on this AIMS-certified course. The Prize money across all categories is about Rs.27 lakhs.
It is going to be the green marathon. 250 volunteers are pressed into the service for the purpose of keeping it green as well as for recycling.
We are also proud to support runners from many NGOs, who are working with different underprivileged sections of society and have also facilitated fundraising for various Charity organizations under the aegis of the NMDC Hyderabad Marathon 2023 powered by IDFC FIRST Bank. We call out to all sections of society to support this initiative and make Hyderabad the health capital of the country. We thank the Govt of Telangana, the City Police and our Sponsors for their backing in this active lifestyle movement."

Naarayan TV – Chief Marketing Officer – IDFC FIRST Bank said "As the Associate Sponsor of the NMDC Hyderabad Marathon, IDFC FIRST Bank has an opportunity to connect with people in the dynamic city of Hyderabad. Participative sports have seen a growing interest in recent times, and being a part of this positive influence aligns with IDFC FIRST Bank's philosophy of enabling social good in society. Through this partnership, we aim to promote the importance of a healthy lifestyle across all aspects – financial, physical and mental. We look forward to an event that is inspirational and promotes community building"