New showroom also inaugurated
Hyderabad, September 11, 2023… Abhinandan Bajaj MAXIMA ELECTRIC CARGO, Three Wheelers launched in Sangareddy.
The EV Cargo Three Wheelers cost Rs 3.90 lakh.
Shri Samardeep Subandh, President, Intra-City Business, Bajaj Auto Ltd formally launched them into Sangareddy in a function held in the city
Earlier Shri Samardeep also inaugurated the Abhinandan Motors Pvt. Ltd in the city.
Ms. V Sunitha Laxma Reddy, State Women's Commission Chairperson and MLA Kranthi Kumar also visited the showroom immediately after it was inaugurated.
Addressing the gathering Samardeep Subandh, President, Intra-City Business, Bajaj Auto Ltd said Indian market for EV Cargo is well developed in the past three years. Telangana Market for EV Cargo three wheelers is also emerging as a potential market as major e-com companies operate from this state. The Indian Market for EV three wheelers both put together passenger and cargo is 3000 per month. The overall Indian market for three wheelers is 10,000 per month. EV Cargo three wheelers are expected to gain double, triple growth in near future he said.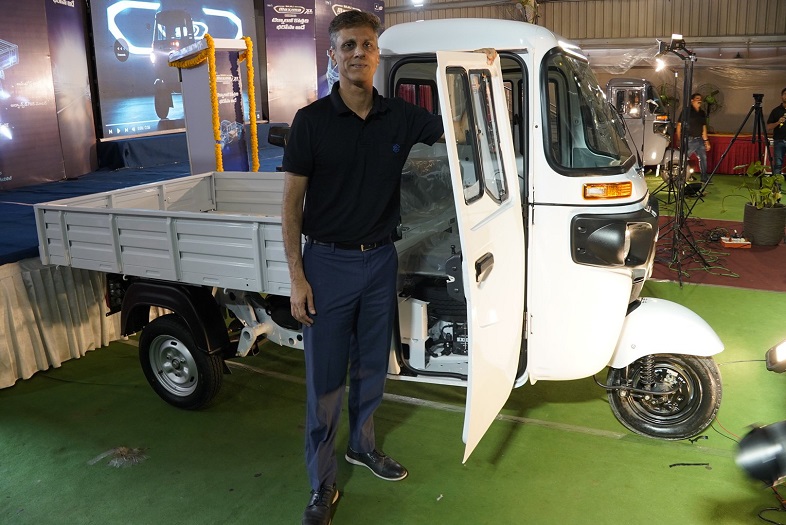 Speaking earlier, Mr. Nelli Babji, Divisional Manager for Bajaj Auto said the market has turned from Diesel to CNG and now to Electric Vehicles. They plan to sell around 100 EV Cargo Vehicle every month in Telangana.

We plan to have a showroom for every 25 kms in the state. We have 11 showrooms, 66 branches and 132 sub branches in Telangana he added. The Bajaj Maxima EV Cargo vehicles will be launched in every district of the state he added.

Rohit of Abhinandan Auto said they had a small branch at Sangareddy which is now converted into a big showroom which was inaugurated by Samardeep Subandh today.
Mr Gaurav, VP, Swaroop Chand Kothari of Abhinandan Auto and others also participated in the inauguration.